Welcome!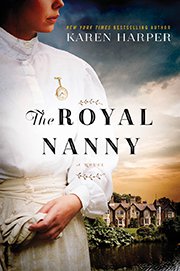 BROKEN BONDS
January, 2015

"Harper takes on the timely and controversial topic of fracking in her third Cold Creek contemporary romantic thriller (after Forbidden Ground). Idealistic social worker Charlene Lockwood is making home visits to vulnerable children in a remote area of the Appalachians when she sees businessman Matt Rowan nearly get run off the road. She pulls him out of his truck before it plunges off the cliff—and quickly falls for Matt, the general manager of the new luxury community of Lake Azure. Who would want Matt dead? Could it be the local cult, Hear Ye, which is headed up by a nefarious man named Bright Star Monson? Or could the villain be closer to home, possibly even Matt's seemingly generous boss? As Char and Matt search for answers, they fall deeper in love and try to stay alive. The thrilling finish takes a twist that most readers won't see coming. While intrigue is the main driver of the story, the able, well-researched plotting and sympathetic characters will keep romance readers along for the ride."

- Publisher's Weekly
http://www.publishersweekly.com/978-0-7783-1735-7

Cold Creek is a place with a dark history, especially for the Lockwoods. Determined to move forward, Tess and Kate are making fresh starts to put terrible memories to rest and they're hoping their middle sister, Charlene, can do the same.
Char is a social worker used to difficult situations, but she runs afoul of some locals who think she's sticking her nose where it doesn't belong. She's certain something sinister is being covered up, and when she witnesses Matt Rowan being run off the road, she know she's right. Working together, Matt and Char find uncovering the truth can be deadly dangerous, but living in Cold Creek won't be safe for any of them until its secrets are revealed.
Harlequin Amazon Kindle Barnes & Noble Nook iBooks Kobo Google eBooks
New York Times bestselling author Karen Harper's
new Romantic Suspense Trilogy
Coming This Fall
Three very different sisters…
Three desirable, dangerous men…
Three endangered lives…
THE COLD CREEK TRILOGY is set in Appalachia in a small town where the enemy is us
Three books out in six months:
September – SHATTERED SECRETS, Tess's story
November – FORBIDDEN GROUND, Kate's story
January - BROKEN BONDS, Charlene's story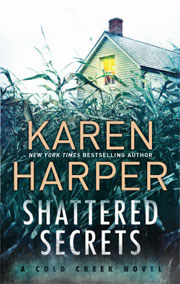 "Harper, a master of suspense, keeps readers guessing about crime and love until the very end." --Booklist, starred review on Fall from Pride.
Returning to Cold Creek, Ohio is an act of courage for Tess Lockwood. Abducted and held captive as a young girl, she is unable to remember anything about the crime that destroyed her childhood and tore her family apart. Gabe McCord has always blamed himself for what happened to Tess. Now he's the county sheriff and hopes to shed new light on the cold case, especially given his growing feeling for Tess. Tess isn't ready to recall what happened to her, but when another child in the town goes missing, she's certain it's related to her abduction. Together, Tess and Gabe work to unlock their painful memories to save a child and heal their damaged souls.
Harlequin Amazon Kindle Barnes & Noble Nook iBooks Kobo Google eBooks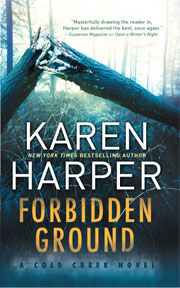 "Masterfully drawing the reader in, Harper has delivered the best, once again." --Suspense Magazine on Upon a Winter's Night.
At her sister's wedding, Kate Lockwood is determined to break through best man Grant Mason's defenses. An anthropologist, Kate makes her living studying the dead. She is particularly interested in the prehistoric Adena civilization that once called the area home. A large burial mound sits on Mason family land, and Kate wants permission to excavate. But Grant refuses and tells her to stay away from the mound.
The more she researches, the more Kate believes that Grant is hiding something. When one of his friends is killed, the couple joins forces to assist in the investigation. Can Kate trust the man she's come to love, or will the wrong decision be her final act?
Read an Interview with Karen Harper in THE BIG THRILL magazine
Harlequin Amazon Kindle Barnes & Noble Nook iBooks Kobo Google eBooks

"Strongly plotted and well written, featuring a host of interesting characters, Harper's latest is a winner." --Romantic Times BOOKreviews on Below the Surface
ABOUT THE AUTHOR:
A New York Times and USA Today bestselling author, Karen Harper is a former college English instructor (The Ohio State University) and high school literature and writing teacher. A lifelong Ohioan, Karen and her husband Don divide their time between the midwest and the southeast, both locations she has used in her books. Besides her American settings, Karen loves the British Isles, where her Scottish and English roots run deep, and where she has set many of her historical Tudor-era mysteries and her historical novels about real and dynamic British women. Karen's books have been published in many foreign languages and she won the Mary Higgins Clark Award for 2005. Karen has given numerous talks to readers and writers across the county.
Her author collection is with The Ohio State University Rare Books and Manuscript Library.
Her other suspense novels include: THE MAPLE CREEK TRILOGY: DARK ROAD HOME, DARK HARVEST AND DARK ANGEL. ALSO, THE HOME VALLEY AMISH NOVELS: FALL FROM PRIDE, RETURN TO GRACE, FINDING MERCY (and a Christmas novel, UPON A WINTER'S NIGHT.

Karen Harper Interview at Ohioana Book Festival


---
Photo of Karen Harper by Jeffrey A. Rycus
[Home] [Contemporary Books] [Historical Books] [Audio Books]
All text copyright 2006-2014 by Karen Harper
Site design by Karen McCullough