Welcome!
WATCH FOR KAREN'S NEW SUSPENSE NOVELS
THE SOUTH SHORES SERIES
Here's a sneak peek at Chasing Shadows:
https://sample-af4e68aca1613e7aae3efde57180a585.read.overdrive.com/?p=chasing-shadows-97e637
Here's a sneak peek at Drowning Tides:
https://sample-5ae00be1179a2c4a90a3d2dccdbc207e.read.overdrive.com/?p=drowning-tides
Here's a sneak peek at Falling Darkness:
https://sample-839017daf657fb0d46435bb2489cedd9.read.overdrive.com/?p=falling-darkness


| | | |
| --- | --- | --- |
| | | |
| | January 31st, 2017 | April 18, 2017 |

More information about the South Shore Novels

Karen's Latest Historical Novel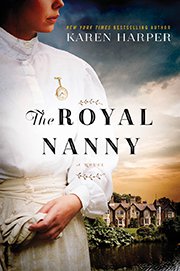 June, 2016
More Information


ABOUT THE AUTHOR:
A New York Times and USA Today bestselling author, Karen Harper is a former college English instructor (The Ohio State University) and high school literature and writing teacher. A lifelong Ohioan, Karen and her husband Don divide their time between the midwest and the southeast, both locations she has used in her books. Besides her American settings, Karen loves the British Isles, where her Scottish and English roots run deep, and where she has set many of her historical Tudor-era mysteries and her historical novels about real and dynamic British women. Karen's books have been published in many foreign languages and she won the Mary Higgins Clark Award for 2005. Karen has given numerous talks to readers and writers across the county.
Her author collection is with The Ohio State University Rare Books and Manuscript Library.
Her other suspense novels include: THE MAPLE CREEK TRILOGY: DARK ROAD HOME, DARK HARVEST AND DARK ANGEL. ALSO, THE HOME VALLEY AMISH NOVELS: FALL FROM PRIDE, RETURN TO GRACE, FINDING MERCY (and a Christmas novel, UPON A WINTER'S NIGHT.
For a complete list of Karen Harper's Books, click here.

Karen Harper Discusses Her Current Books


---
Photo of Karen Harper by Jeffrey A. Rycus
[Home] [Contemporary Books] [Historical Books] [Audio Books]
All text copyright 2006-2017 by Karen Harper
Site design by Karen McCullough