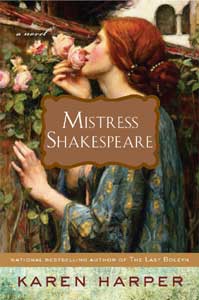 Mistress Shakespeare
Available in paperback January 5, 2010
NAL Trade
ISBN 978-0451229007
Order from Amazon
Hardcover:
Barnes & Noble
Books-a-Million
Powells

Readers Group Questions
NOTE: The hardcover of MISTRESS SHAKESPEARE came out last year. This trade paperback release includes an in-depth interview with the author and reader's group discussion questions.
MISTRESS SHAKESPEARE is the real story of Shakespeare in love.
All fiction—and real life—is about 'what if?'
What if the record of the marriage bond previous to and in the same 1582 registry (still in existence) between Anne Whateley of Temple Grafton and William Shakespeare indicates that Will loved and wed another woman before he married Anne Hathaway? A later entry links him to "Anne Hathway [sic] of Stratford in the Dioces [sic] of Worchester maiden." The earlier Whateley entry can hardly be a mere slip of the pen, for not only the last names but the women's villages are different. As Germaine Greer says in her recent nonfiction book, SHAKESPEARE'S WIFE (about Anne H.), if the Whateley/Shaxpere marriage bond is a scribal error, it's really an odd one.
Will's marriage to Anne H. was what we would call a "shotgun" wedding, not unusual for the time, but it may well not have been voluntary on his part, for it was enforced by two friends of the bride's family, who put up a goodly sum to produce Will for the ceremony. What if the famous "second best bed" in Shakespeare's will was given to Anne H. because he and Anne W. had the first best bed at their Blackfriars Gatehouse in London—a property he made certain did not go to his wife or daughters in his will.
So--what if Anne Whateley was really the love of his life, the dark lady of his sonnets, his inspiration and muse? What if you read their story, then decide for yourself?
(For a look at the Shakespeare/Whateley marriage license (in Latin, with the usual loose Elizabethan spellings) go to http://home.att.net./~mleary/positive.htm
If you would like to hear the music to a song with the words by Will Shakespeare, one that fits the era and theme of MISTRESS SHAKESPEARE, try artist Emilie Autumn – O Mistress Mine – Listen free at www.last.fm/music/Emilie+Autumn/_/O+Mistress+Mine
More Praise For Mistress Shakespeare
"Karen Harper has written a riveting tale of intrigue and passion that plunges the reader straight into the complex heart of Elizabethan England. Rich with details and drama, MISTRESS SHAKESPEARE is a story Shakespearean fans will love."
-- Deanna Raybourn, author of SILENT ON THE MOOR
"Told in first-person by Anne Whateley, this fictional memoir is a touching perspective of the life of William Shakespeare told by his soul mate and life-long love. Expertly researched and woven with the pageantry of Elizabeth and Jacobean history, this author has given us a rare glimpse of real persons from history, turning their lives into narratives that will entertain and delight the most discriminating readers."
--Fresh Fiction, on-line review
"[Harper] has a great knowledge of the way that people acted and spoke back then, and her characters never feel overly modern. Maybe Harper was an Elizabethan in a previous life?"
--Historical Fiction, on-line review
"Everyone knows William Shakespeare—or thinks they do—yet few know the woman who inspired so many of his greatest works. A richly satisfying novel that recreates Elizabethan London at its riotous, unruly best."
--Susan Holloway, author of The King's Favourite

O Mistress Mine
From Twelfth night, Act II, Scene iii
(One of the few Shakespeare songs for which the original music exists)
O Mistress mine, where are you roaming?
O stay and hear! Your true love's coming
That can sing both high and low;
Trip no further, pretty sweeting,
Journeys end in lovers' meeting—
Every wise man's son doth know.
What is love? 'tis not hereafter;
Present mirth hath present laughter;
What's to come is still unsure;
In delay there lies no plenty,--
Then come kiss me, Sweet-and-twenty,
Youth's a stuff will not endure.
Blurb:
England, 1601. When Queen Elizabeth's men come looking for William Shakespeare—a rumored Catholic in a time of Catholic-Protestant intrigue and insurrection—they first question a beautiful dark-haired woman who seems to know the famous playwright very well. Too well. She is Anne Whateley, born in Temple Grafton, a small town just upriver from Shakespeare's hometown of Stratford-upon-Avon. And as church records show—were anyone to look for them—Anne Whateley was wed to William Shakespeare in a small country church just days before he married another woman, Anne Hathaway, who has lived as his wife for decades. In MISTRESS SHAKESPEARE, Anne Whateley--who may or may not be Will's true wife--tells her story. Stretching almost fifty years, from the rural villages of Warwickshire to the bustling city of London, with its teeming streets and lively theaters, it's a story of undying passion, for life, love, and literature.
1. The Elizabethan era in England was much less restrictive than the medieval centuries that preceded it, but in what ways is Anne's world radically different from our own? What are some of the strictures on personal freedom that would never be acceptable today? How do women like Anne or Jennet--or even Queen Elizabeth—find ways around the religious and cultural restrictions of the time? Does Elizabethan society also place restrictions on men?
2. As a girl, Anne sees Queen Elizabeth I and says: "However fair of face, her eyes were as dark as mine. That's why I loved her even more, from that moment on, no matter what befell." What traits, besides the color of her eyes, does Anne share with the queen? Are there other reasons she might identify with Elizabeth?
3. Over the years, some Shakespeare critics and scholars have argued that it would be impossible for a boy with Shakespeare's small town, grammar school background to write the greatest works of English literature. What evidence of Will's brilliance do we see early on in this book? Could his small-town roots and years as an actor have actually helped rather than hindered him?
4. When rehearsing The Taming of the Shrew, Anne says "I had always thought I would make a fine actor, that I could learn my lines and stay in my part." Does Anne ever seem as though she's deliberately acting a part? Is she as accomplished an actor as Will?
5. Anne says of Will: "It was flattering perhaps, in some perverted way, that he was jealous of me but he had no right—" Why do you think Will is so jealous of Anne? Is it merely sexual jealousy about her friendships with other men or are there other reasons he might envy her lifestyle?
6. Although Will and Anne Whateley are in love from their early days, they disagree—and openly conflict--about many things. Anne even says "We argued heartily and far too often." Do you think this weakens or strengthens their relationship? In love, do opposites really attract?
7. Many of Shakespeare's biographers have speculated on why Anne Hathaway and her husband spent most of their married years apart. Besides the possibility of Shakespeare's loving another woman, what else could have led to this arrangement? In what way might it have actually benefited them both?
8. At the end of the novel, when Lord Cecil asks Anne "Tell me true, Mistress Anne, what is that man to you?" she replies: "I rather reckon it is like your relationship to and love for the queen…Will Shakespeare, sir, is a genius at what he does, as much as the queen in her realm. But they need helpers, do they not, guardian angels of a sort? So you and I are much alike in our admiration—and our love—for those we have chosen to care for?" Do you think Anne is being completely sincere in her reply? Does she really see herself as only a muse and helpmate to Will? Do you see her that way?
9. In Henry VI, Shakespeare wrote: "Hasty marriages seldom proveth well." Do you think he might have been speaking of his marriage to Anne Whateley? Or Anne Hathaway? Or both? By the end of this novel, do we think Anne Whateley's marriage to William Shakespeare proved well?