Welcome!
As many of her fans already know, New York Times bestselling author, Karen Harper, passed away from cancer last year, which is a major loss for her many enthusiastic readers. Her last romantic suspense, Under the Alaskan Ice, was just released and should be on sale everywhere. Information on the book is below.
THE TRUTH ALWAYS SURFACES...

When a small bush plane smashes through the ice at Falls Lake Lodge, it's a chilling reminder of everything Megan Metzler has lost. Three years ago, Meg's pilot husband died in a similar crash, a tragedy Meg and her young son, Chip, have struggled to move on from. Still, Meg does everything she can to assist when Commander Bryce Saylor arrives to investigate, even as working alongside the handsome pilot stirs up painful memories—and an attraction that catches them both off guard.

Bryce knows time is of the essence as he plunges into the frigid water in search of clues. But when vital evidence is destroyed, it soon becomes clear this downed plane was no accident. With someone tracking them from the woods, Meg and Bryce must race to unravel a mystery as indomitable as the Alaskan wilderness, or they might be the next victims to crash and burn…

Harlequin Amazon Kindle Barnes & Noble Nook Apple Books Kobo

Visit Karen's Facebook page for photos from Alaska and England. https://facebook.com/KarenHarperAuthor
DOUBLE DATING

This has never happened in my 38-year career,
But two new, very different books are coming out quite near.
Late April a romance/suspense DEEP IN THE ALASKAN WOODS,
Mid-May a new historical I hope you think is good.
THE QUEEN'S SECRET features the queen of England's WW II.
She was listened to by powerful men and was heroic too.
So whether it's Alaska or London in the blitz,
I hope you'll want to read both books and enjoy every bit.


Release date April 28, 2020


Release date May 18, 2020

| | | |
| --- | --- | --- |
| | | |
| February 27, 2018 | November 27, 2018 | May 28, 2019 |
Here's a sneak peek at Shallow Grave
Hear Karen give a 4-minute reading from SHALLOW GRAVE.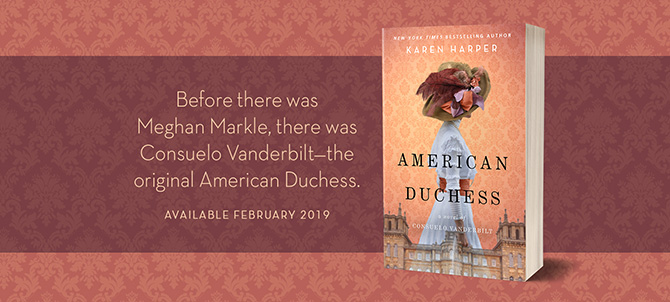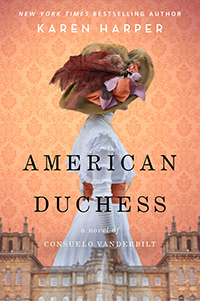 TO LEARN MORE ABOUT THE ORIGINAL AMERICAN DUCHESS, GO TO THE HISTORICAL SECTION.
AMERICAN DUCHESS HAS BEEN CHOSEN BY WOMAN'S DAY MAGAZINE AS
ONE OF THE MOST ANTICIPATED NOVELS OF 2019

https://www.womansday.com/life/entertainment/g25326041/best-books-2019/?slide=9


ALSO AVAILABLE IN THE SOUTH SHORES SERIES
| | | |
| --- | --- | --- |
| | | |
| | January 31st, 2017 | April 18, 2017 |
Here's a sneak peek at Chasing Shadows:
https://sample-af4e68aca1613e7aae3efde57180a585.read.overdrive.com/?p=chasing-shadows-97e637
Here's a sneak peek at Drowning Tides:
https://sample-5ae00be1179a2c4a90a3d2dccdbc207e.read.overdrive.com/?p=drowning-tides
Here's a sneak peek at Falling Darkness:
https://sample-839017daf657fb0d46435bb2489cedd9.read.overdrive.com/?p=falling-darkness

More information about the South Shore Novels

The IT GIRLS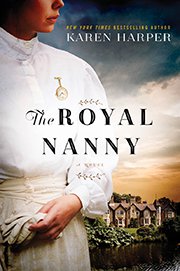 June, 2016
More Information



ABOUT THE AUTHOR:
A New York Times and USA TODAY bestselling author, Karen Harper is a former college English instructor (The Ohio State University) and high school literature and writing teacher. A lifelong Ohioan, Karen and her husband love to travel. Besides her American settings, Karen loves the British Isles, where her Scottish and English roots run deep, and where she has set many of her historical novels about real British women: THE ROYAL NANNY, THE IT GIRLS (Oct. 2017), and AMERICAN DUCHESS, yet to come.

The Harpers lived in SW Florida for many winters so her suspense novels, the SOUTH SHORES SERIES, are set in the tropics. These books include CHASING SHADOWS, DROWNING TIDES and FALLING DARKNESS with SHALLOW GRAVE and other titles coming in the future.

Karen's books have been published in many foreign languages and are available in print and ebook formats in English. Most are in large print and audio. She won the Mary Higgins Clark Award for her Amish-setting novel, DARK ANGEL. Karen has given numerous talks to readers and writers across the country. Her author collection is with The Ohio State University Rare Books and Manuscript Library.


For a complete list of Karen Harper's Books, click here.

Karen Harper Discusses Her Current Books


---
Photo of Karen Harper by Jeffrey A. Rycus
[Home] [Contemporary Books] [Historical Books] [Audio Books] [Privacy Policy]
All text copyright 2006-2021 by Karen Harper
Site design by Karen McCullough